Guru Purnima – 2018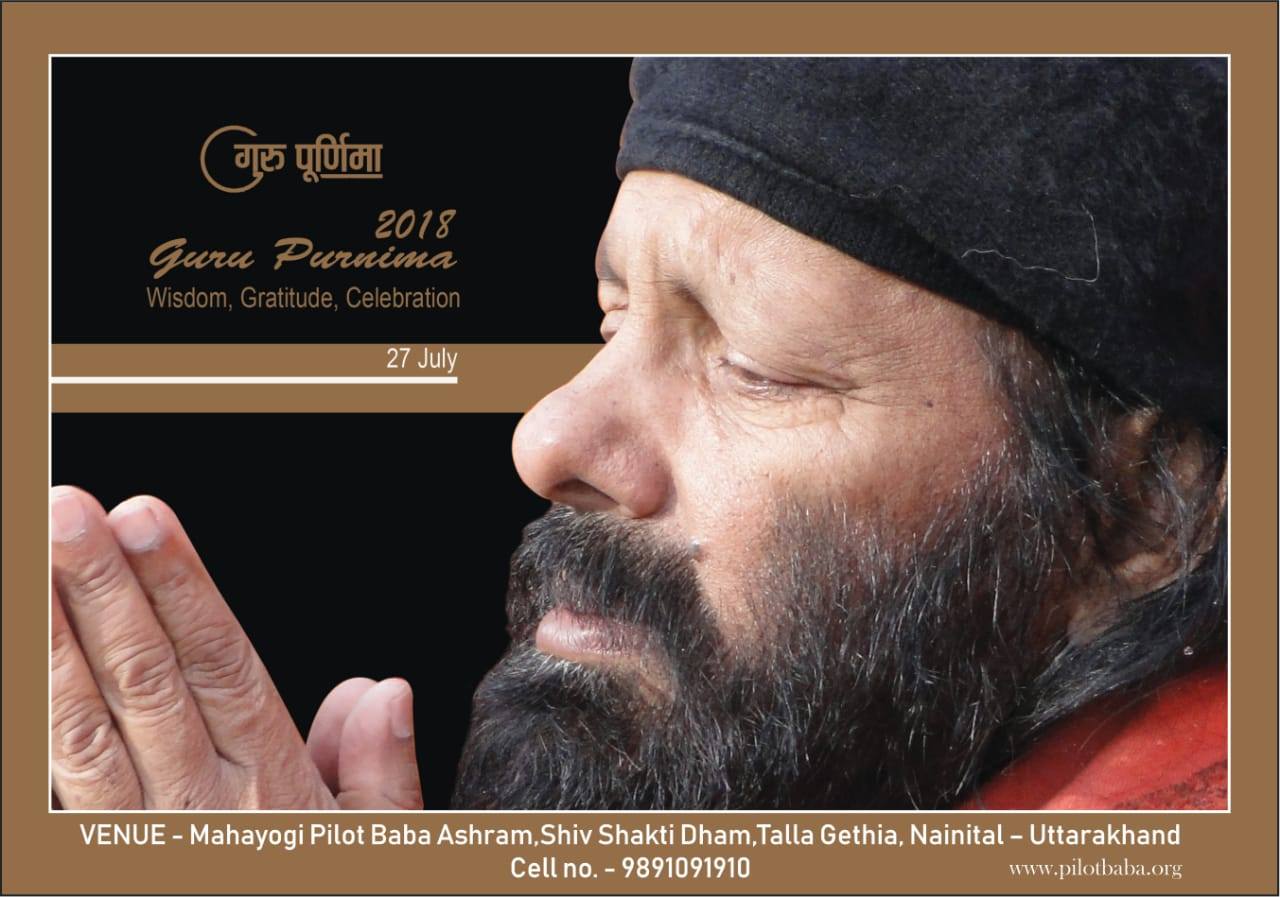 " When I am sound
And I am speech
Then what does my inner seek.
A direction towards my goal
A path which would in it withhold
Unveiling the mysteries of Universe
One outside
and one inside
Wish there was a magic wand 
Which could swish around 
and hold my hands to tell me 
Don't worry my child ,
Together we will make life flow. "
Together we will make life flow……… Yes certainly the life flows when our Master , our Guru holds our hand in the form of that magic wand. What a moment , what a gratitude.
Guru Purnima – the eventful day – the day of culmination – when we get that opportunity to offer our gratitude to that magic wand – our Master – who made our life flow towards its ultimate destination.
Year 2018 – thus announces this day on 27th July, 2018.
Mahayogi Pilot baba , thus welcomes you for this divine moment to seek the blessings and move on in life.
The detailed program being as follows :-
24/07/2018 to 26/07/2018 – Guru Yagya. An offering  to Lord Dattatreya.
21/7/2018 to 25/07/2018 – Sanskar Diksha (continuous for 5 days)
NO SANKALPA DIKSHA this Year
24/07/2018 to 26/07/2018 – Sanyas Diksha
27/07/2018 – GURU PURNIMA CELEBRATIONS
VENUE DETAILS:-
Shiv Shakti Dham
Talla Gethia
Nainital – Uttarakhand
All those who have taken Diksha from Babaji are invited to be part of this Divine moment and feel blessed.
This is an interim information – more detailed program will come up later.
Mahayogi Pilot Babaji's birthday which falls on 15/07/2018 will also be celebrated at Nainital Ashram.
Please keep us updated about your arrivals and duration of stay.
It is a gathering of wonderful moment, so please co-operate to make it a beautiful blessing.
Let us join in with open heart, leaving aside the trivial issues and be in the Divine presence and grace of Divine Masters through our revered Gurudeva – Mahayogi Pilot Baba.
OM NAMO NARAYANA !